What to do at Your First HOA Meeting
What to do at Your First HOA Meeting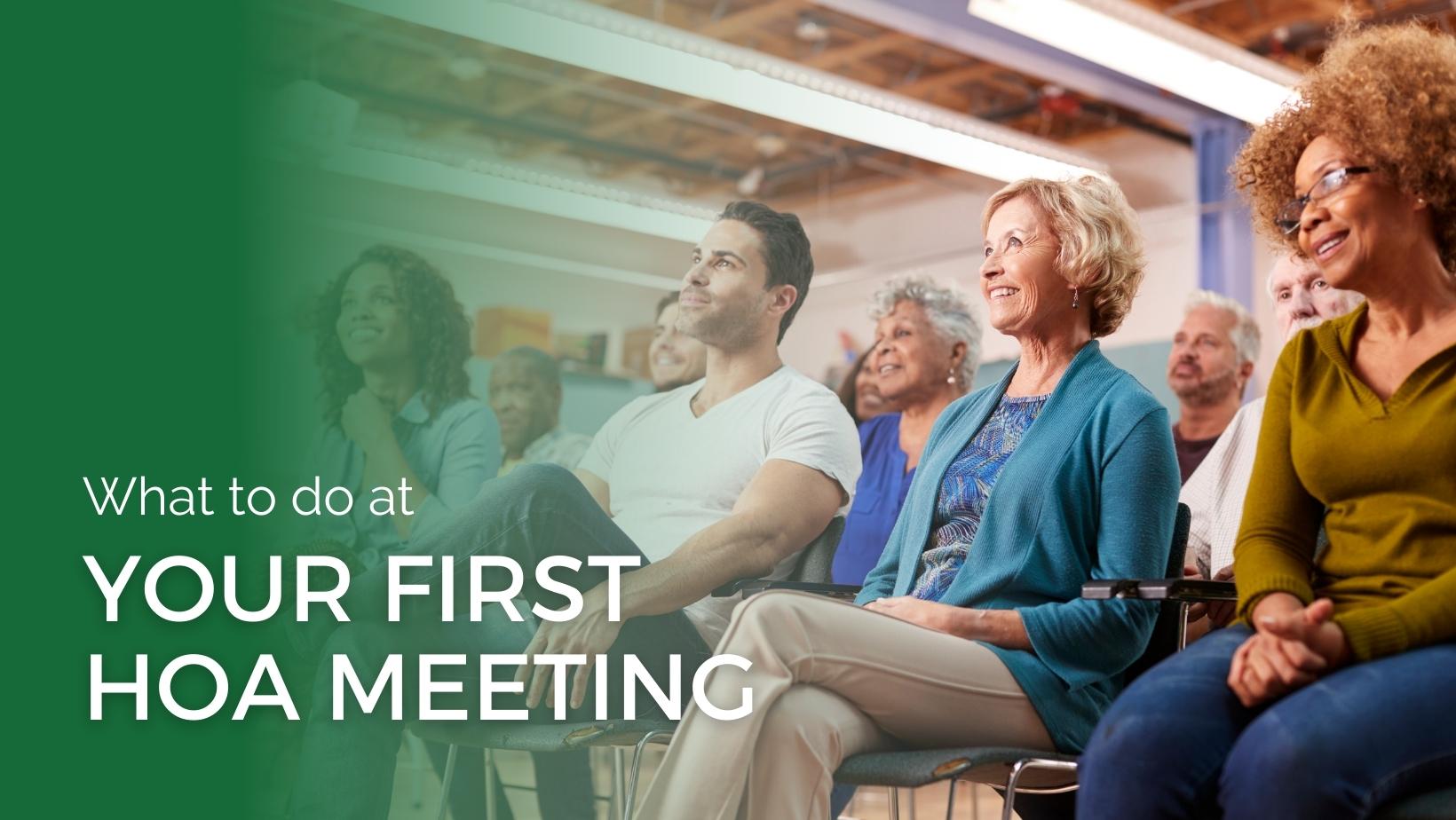 If you have decided to take a more active role in your community, then one of the best things you can do is to attend your local homeowner's association meeting. 


These meetings will give you insight into how your community functions and give you the ability to propose changes on a neighborhood-wide scale.  


Before you attend your first meeting, you must make sure you understand what happens at an HOA meeting, and the proper etiquette so you don't interrupt the usual flow.  


In this post, we will tell you what to expect from your first HOA meeting as well as your path to impactful change. 


HOA meetings will often follow a strict schedule or itinerary. This helps to ensure that the meeting is structured and covers all important business.  


This is the general pattern of an HOA meeting: 


Review of last meeting's minutes 


While this is the typical schedule for an HOA meeting, your HOA may be different. Make sure you pay close attention in your first meeting to ensure you stay on topic. 


A healthy HOA is an important part of building a happy and thriving community. When an HOA works well, there are some best practices that they follow.  


Create timelines for each agenda.  

A healthy HOA sets a clear timeline. Each meeting point that arises must have a clear time stamp and committee members must set a rough timeline for the completion of a solution. Estimate how much time a solution will take and assign members to meet the goal. Make sure to check progress each week until completion.  



Allow for maximum homeowner input.  

The healthiest HOA committees are those that build off the homeowners' needs and work on the community. Because of this, it is of the utmost importance that HOA committees give homeowners every opportunity to have their voices heard. Meetings should be led by community members and accomplish tasks that benefit everyone.  
 

Be forthcoming with information and educate the populace.  

A healthy HOA committee will ensure that they share each meeting's agenda well in advance of the event. Members should be aware of what will be discussed and how they can get involved with the discussion. Make sure all public information and policy are easy to find and access. An informed community is a healthy community.  
 
What an HOA Committee Should Not Do
While many HOA committees want to improve their community, there are also some things that should not be done.  


Do not forget to review all relevant documents.  
 
It is important to be up to date with all bylaws and important initiatives. The committee that does not remember what it has approved and what initiatives it is undertaking will never be able to make meaningful changes. 
 

Do not share private information.  
 
HOA committees must understand that some information is confidential and cannot be shared. Oversharing with the community can lead to the disruption of certain projects and even cause some initiatives to be delayed or canceled.  
 

Do not include every agenda item posted.  
 
While all suggestions should be considered, not every idea must be taken. Leadership should determine which topics are most relevant and ensure that the HOA's authority responds to those issues.  


A Better HOA, Built on Community. 
The best HOA committees are those that focus on the community. Committee meetings that allow community members to make active changes in their communities are the most impactful of all. They empower community members to feel like they can make a positive difference for themselves and their neighbors.  


Following best practices is imperative if you want to keep your local community healthy.  


None follows the best practices more strictly than Management Plus. If you are looking for community leadership that will always put the community first, then reach out to the community managers at Management Plus.