Increase the Property Value of Your Community Association with Better Lighting
Increase the Property Value of Your Community Association with Better Lighting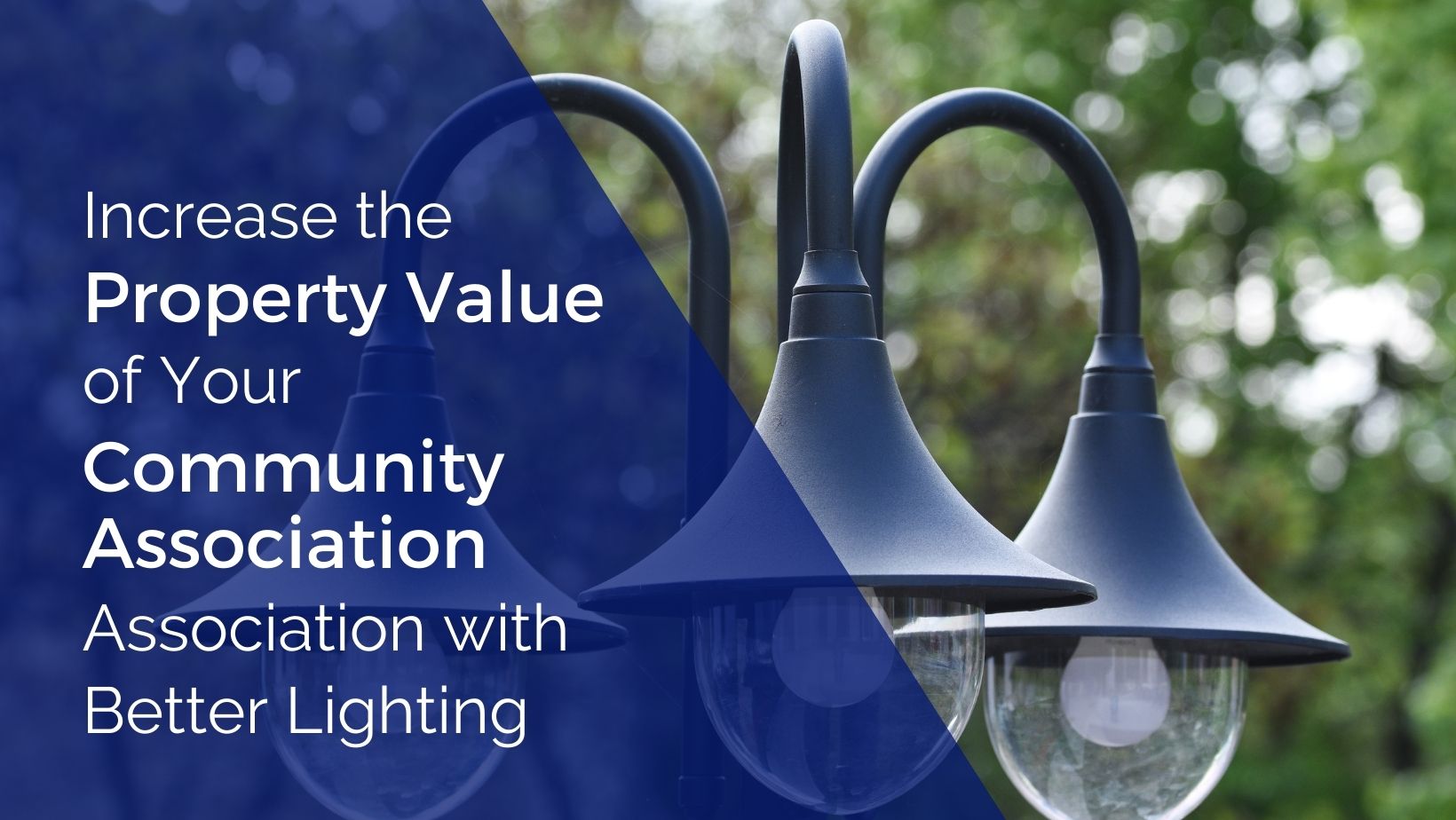 At Management Plus, we love anything simple that increases the value of an association.  
Cheap investments that pay off in a big way down the line are investments every association should keep their eyes on.  
One of the simplest, yet most impactful changes you can make to boost your community association's value is investing in quality lighting.  
Public lighting upgrades and different kinds of lighting throughout your association can have a profound impact on how residents and outsiders value your community. 
Your community is already beautiful during the day, and with a few lighting upgrades, it will look beautiful at night too! 
This post will go over how you can make lighting upgrades to your community to increase its value.  
What Outdoor Lighting Does for Your Community 
Outdoor lighting upgrades can noticeably increase your association's value. But beyond that, it can make your community more appealing and make it a safer place to live.  
Let's look at some of the major ways that lighting upgrades boost your community's value.  
Boost Nighttime Appeal 
Your community is a beautiful place to live during the day, but what about at night?  
If your community is lacking in lighting, then it may come off as shadowy, grim, or frightening when the sun starts to set.  
Warm street lighting will light up homes' exteriors and illuminate streets and alleys to ensure that your community is inviting at any time of the day.  
Highlight the Best Features 
Your community is home to many unique and enticing features. You can find a large variety of directional spotlights that will boost the appeal of features native to your community.  
Some top features include: 
Flags 


Plaques 


Fountains  


Banners 


Trees 


Murals 
But don't stop there! Anything that makes your community unique should be shown off, day or night.  
Accent Lighting Goes a Long Way 
We love accent lighting because you just need a little bit to make a big impact.  
Lighting community entrance signs, trees, shrubs, or historical buildings with unique lighting can make these key features pop. 
Don't stop with spotlights here! Consider unique lighting like LED strips, diffused light, and ground path lighting to make an effect. 
Your Community Appears Safer 
No matter how safe your community is, dark eerie spaces will make it intimidating to outsiders and locals alike. 
Illuminate streets, alleys, parking lots, walkways, stairways, and more to boost safety and make navigating your community easier. 
Create a Line of Lights 
Your residents or visitors should never have to wonder where they are going. A line of lights is a cheap and effective way to create a path and guide people to key locations like restaurants, parks, or community hubs. 
Also, placing a string of lights on fences is a great way to create improve visibility and inform pedestrians about perimeters and boundaries.  
Increase Your Association's Value with Management Plus 
Increasing your community association's value can be easy if you know the right way to do it.  
Simple actions, like installing and improving community lighting can have a profound effect on how people perceive your community and how it is valued.  
For community lighting solutions and other community association improvements, Management Plus is here to help. 
When you hire Management Plus as your community association management experts, we help transform your community and improve association value with upgrades that have been proven effective time and time again.  
We proudly serve communities in Cincinnati, Mason, Beckett Ridge, Fairfield, Landen, Loveland, Sharonville, Columbus, Monroe, Northgate, Hamilton, Lebanon, Harrison, Montgomery, Springdale, Amelia, Middletown, Mount Carmel, Kenwood, Milford, Northern Kentucky, and Southwest Indiana. 
If you are ready for a meaningful upgrade to your community, reach out to Management Plus today! 
Satisfied with the Management Plus difference? Leave us a review here! And be sure to follow us on Facebook, Instagram, and LinkedIn for more help with HOA and community management tips!