Ways for HOAs to Prepare for Summer
Ways for HOAs to Prepare for Summer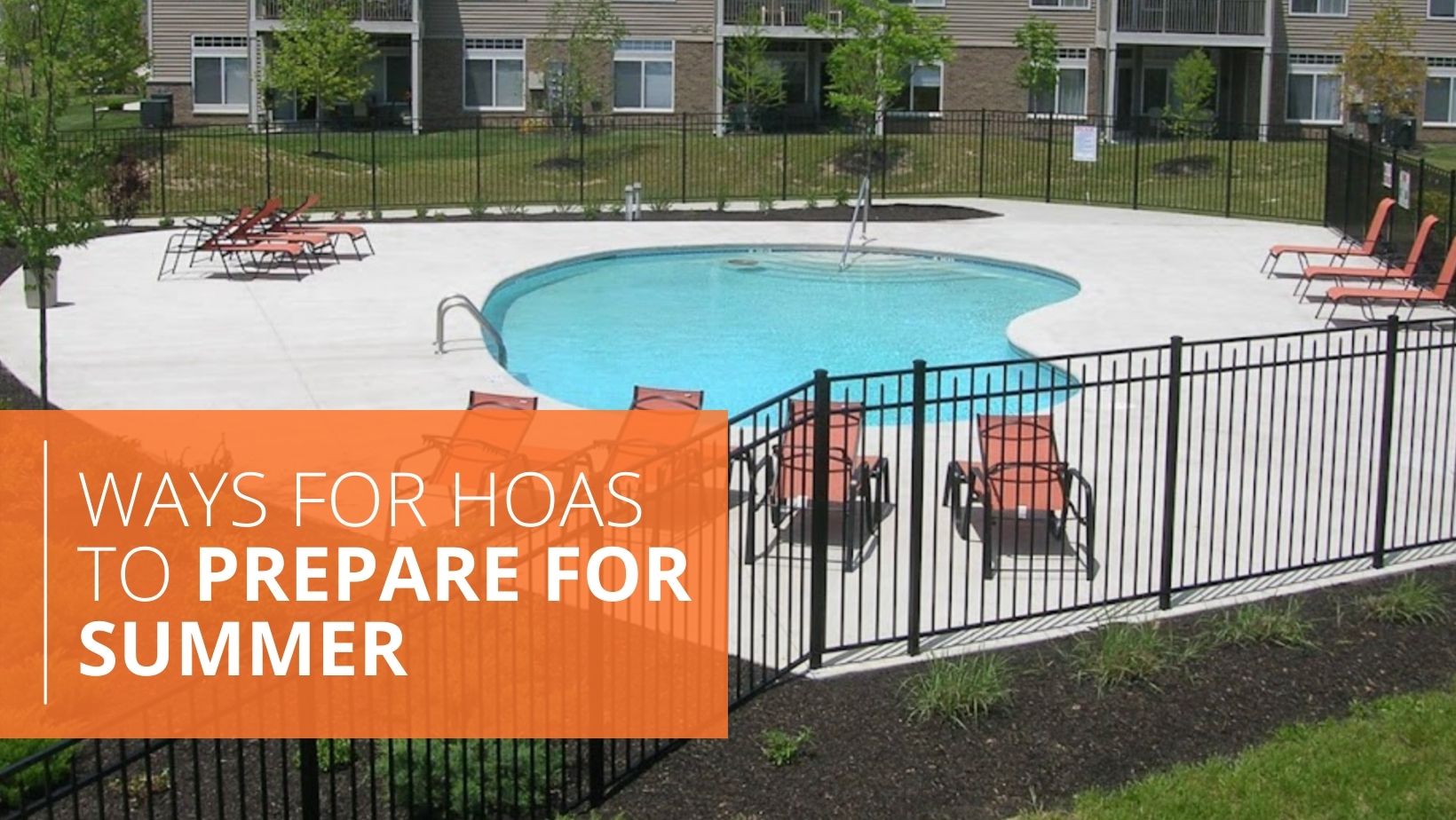 Summer is a time of fun and exploration for many residents of your community. Neighbors and friends will enjoy all that your neighborhood has to offer, but they will also be more prone to breaking rules.  
Your HOA needs to be ready. Striking a balance between encouraging fun and enforcing the rules can be hard to find, but if you want to ensure that all residents of your community have an enjoyable summer.  
So, how do you make a summer plan that is easy to follow and helps enhance your community? 
This post will go over some quick tips that will make preparing for summer a breeze.  
Prepare Your Neighborhood for Summer 
Prepare for new residents. 
Summer is one of the most popular times for new residents to move in. Make sure new residents have a welcome packet with the rules for your HOA. This will help make their transition easier and help them feel welcomed. 
This is also a great time to host an event to introduce new residents to each other! Ice cream socials and pool parties are one of the best ways to help foster a sense of community.  
You can use this as an opportunity to provide them with neighborhood maps and make sure that public areas (like gyms, pools, or BBQ areas) are open and ready for the summer. 
Check that street are in good condition. 
Your streets are one of the most important aspects of your neighborhood. Check that they are in good condition by doing the following. 
Check for potholes and cracks, broken signs, and loose or missing streetlights.  


Additionally, be on the lookout for graffiti, debris, and signs of erosion.  


Clear overgrown vegetation that could obscure vision while walking or driving.  


Check if any curbs are missing or damaged—if you live somewhere with a long history of flooding or other natural disasters like hurricanes, it may be wise to invest in curbs that have been proven to last through such events. 
Care for landscaping. 
Although some owners may be able to complete window-washing and watering projects themselves, others more often find themselves overburdened with responsibilities, especially during the summer months.  
Many homeowners associations provide guidelines for people who want to help keep their properties looking great, but these are often vague and incomplete. Create a comprehensive guide for lawn care.  
All homeowners should know what is required, what is encouraged, and what is discouraged. Make sure public areas are in line with the rules to set a good example. 


Remind residents of rules and decorum. 
Although warm weather can bring a sense of relaxation, it's important to remind your residents that they will be sharing common spaces and should therefore maintain mutual respect for one another.  
Issue reminders on the following. 
Noise:  
Encourage your HOA members to keep noise levels low when outside enjoying the beautiful weather. Noises from gatherings can travel long distances and affect neighbors who desire quiet. 
Dress code:  
Make sure your residents are aware of the dress code for common areas. Most HOAs have policies about what constitutes acceptable attire for public spaces within the community, including pools and exercise facilities. Encouraging your members to consider this policy when planning summer activities will help ensure everyone will feel comfortable during these events. 
A Smoother Summer for Your Neighborhood 
With all the heat and fun of summer, it's important to make sure your HOA is prepared to ensure that everyone in the community has a wonderful experience.  
Taking a little time before the season begins can relieve some of the stress of planning activities, dealing with maintenance issues, and handling conflict resolution.  
To help your HOA get ready for summer, review last year's plan to determine what worked well and what didn't. Then adjust accordingly to reflect any changes in the community or new information you have available.  
Once you have updated this plan (or created one from scratch), it will be easier for everyone on your board to be on the same page when it comes to how to best run your community during the summer months. 
If your community is lacking leadership, then you may need the expert community management offered by Management Plus.  
At Management Plus we know that communities must be places that work for all residents. From new homeowners to long-time residents, Management Plus makes your community home for everyone.