How To Safely Hang Christmas Lights Like a Pro
How To Safely Hang Christmas Lights Like a Pro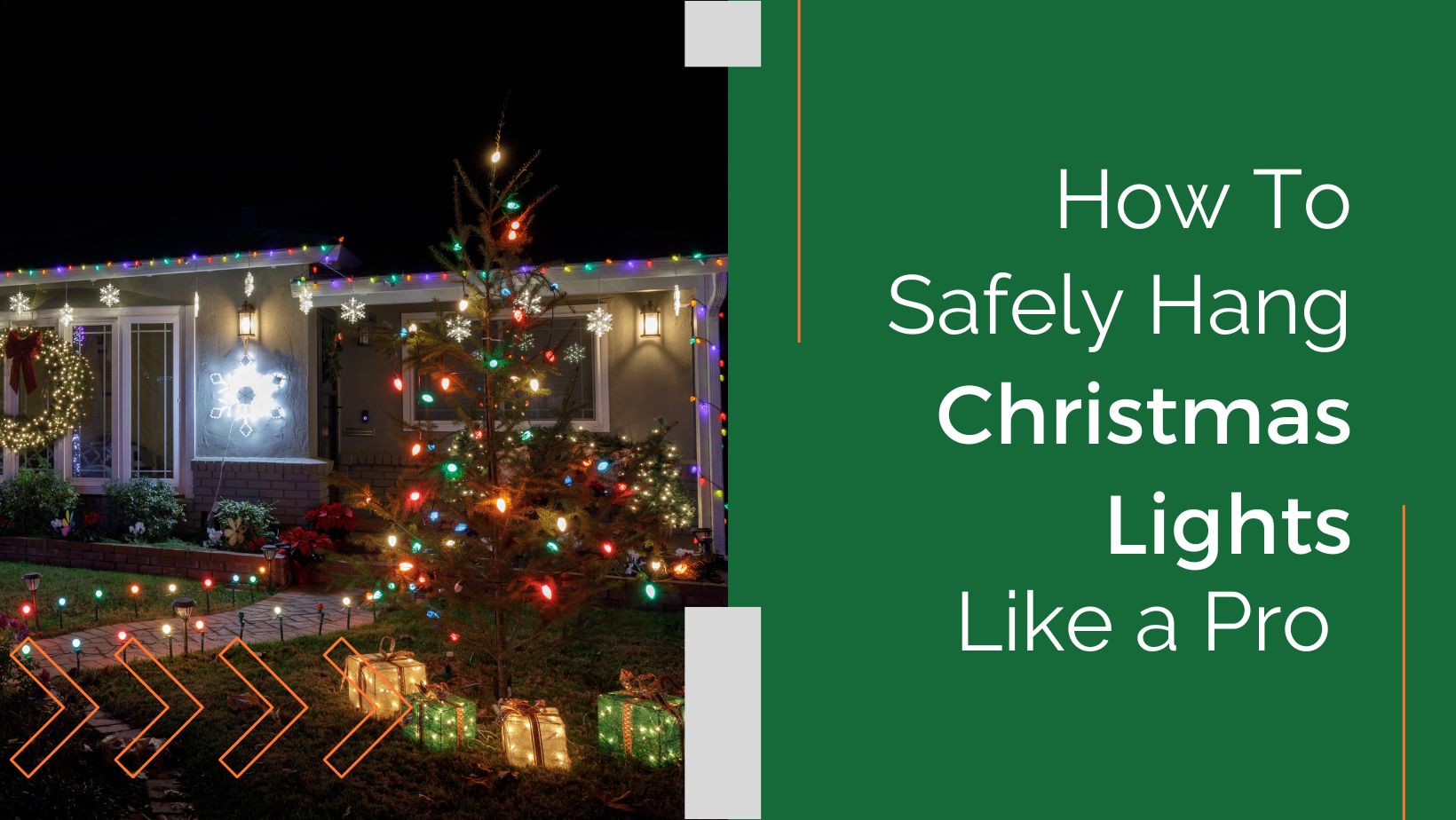 Puffy flakes of pure white snow cascade gently to the ground, illuminated by the vibrant greens, reds, and icy blues of seasonal Christmas lights on houses up and down the street.  
There is no mistaking it, Christmas time will soon be here! For many people, the holiday season is marked by the appearance of stunning and colorful strands of lights on their neighbors' houses.  
No one can deny it, it is great fun to hang Christmas lights on your home. And perhaps more fun is driving up and down your neighborhood streets on a crisp December night and marveling at the stunning luminosity that has encompassed your community.  
However, as beautiful as Christmas lights are, hanging them can present a very real danger. Icy conditions and high roofs mean that the chance of slipping and falling while hanging your lights is increased.  
In this post, we will give you a few quick tips for hanging your lights safely, as well as a few ideas to help make you a light-hanging pro.  
Safety First! Dangers to Look Out for While Hanging Lights 
Let's look at the facts. Cannon Law ran a study from 2008 to 2017 and found that in those ten years an estimated 76,740 women and 57,541 men visited the emergency room from injuries resulting from hanging Christmas decorations.  
Many people will be hurt hanging their lights this year. Use these tips to prevent yourself from being one of them. 
Here are Management Plus' top Christmas lights safety tips.  
Look for frayed wires and cracked bulbs before hanging your lights 


Only hang lights that have fused plugs. Old hardware can cause sparks to shoot out! 


Don't let your lights touch trees or dry wood. The air is often dry in the winter and fires can easily break out.  


Replace burnt-out bulbs immediately and make sure new bulbs match wattage.  


Never use nails, tacks, or screws to hang lights.  


Run extension cords at ground level and be sure to elevate plugs and connectors. 


Never leave Christmas lights when you go to bed. Be sure to turn off your lights when unattended to prevent fires or other damage.  
Hang Your Lights Like a Pro this Christmas Season 
Now that you are more mindful of Christmas light safety, let's get to the fun part! 
Here are a few quick tips for hanging your lights like a pro.  
Measure your lights. Know where and how far your lights can go before you start hanging. This will allow you to have a more thorough design plan and will result in an overall more aesthetically pleasing light layout.  


Use light clips. Nothing looks worse than droopy, sagging lights! Get several dozen light clips and use them to keep your light strands taut. They are perfect for hanging lights on gutters, shingles, walkways, and windows. Add to that, they will make the hanging process much quicker and easier.  


Know where your outlets are. Don't be the poor homeowner who has all their lights hung in a perfectly pleasing manner only to find that they don't have enough lights, or worse their strands won't reach the outlet. Know where your outlets are and how many you have.  


Calculate your power expenditure. It is a fine thing to have a home overflowing with lights, but think of the electric bill! Unless you want to turn your holiday grin into a bitter grimace come January, be sure to calculate your power expenditure before hanging your lights. Here is a quick guide: Wattage of bulb x number of sockets = total wattage of a string of lights. 
Better Christmas Lights for a Stronger Community 
Now that you know Management Plus's top tips for hanging Christmas lights, you can glow up your house safely and effectively this holiday season. Just be sure to check with your HOA to be sure you are meeting Christmas light regulations for your community! 
However, making your community in top condition goes far beyond stunning Christmas lights.  
When it comes to putting the safety of your community first, you need a trusted community association management company. Management Plus is the perfect community association management company for the job!  
We are proud to be the only Accredited Association Management Company® rooted in the Cincinnati area, and we are ready to help communities in Ohio, Kentucky, and Indiana thrive! 
Ready for superior community association management? Give us a call at 513.772.2570!