How to Prepare Your Community Association for the Fall
How to Prepare Your Community Association for the Fall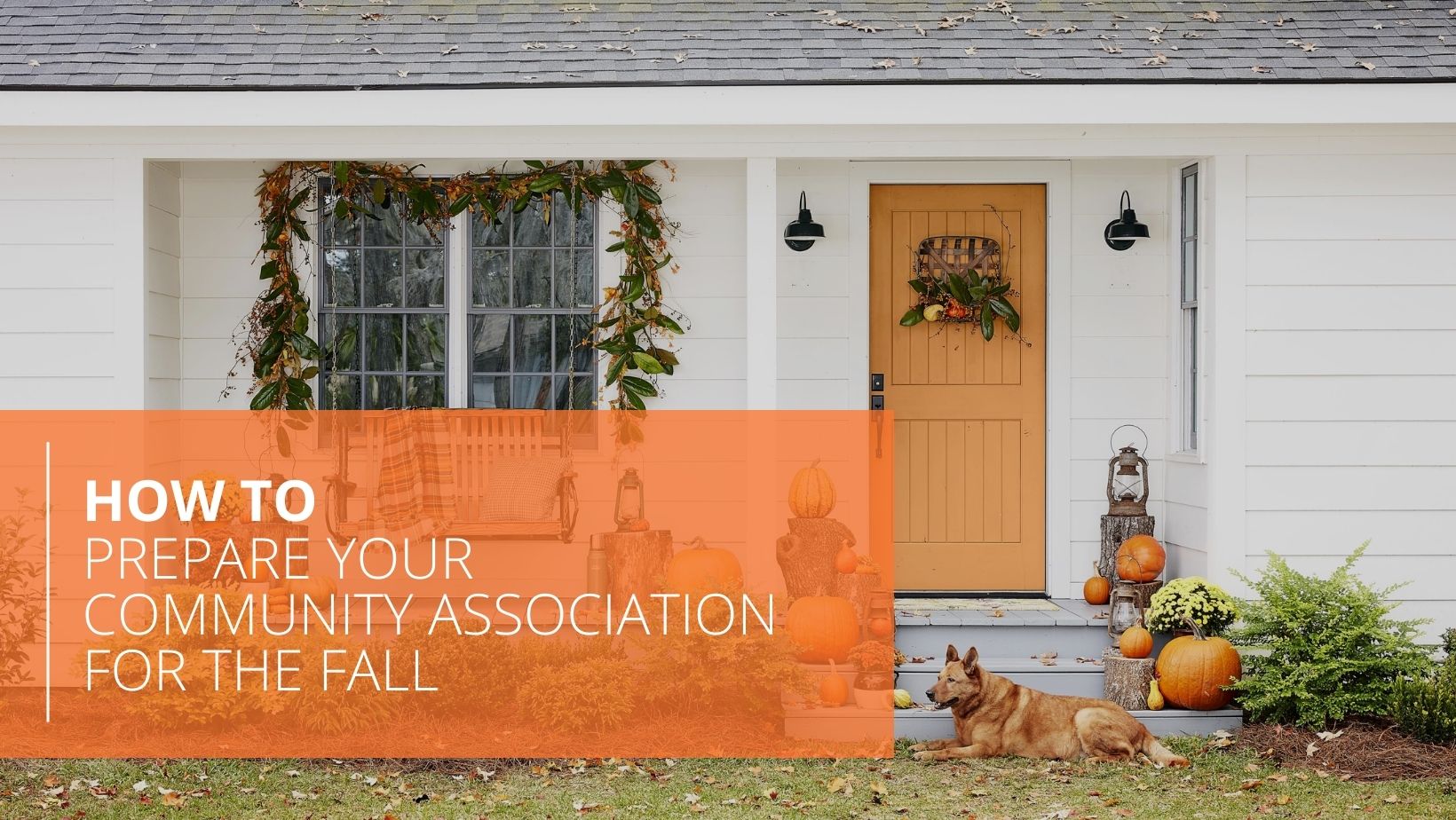 Fall is upon us! 
Crisp falling leaves, vibrant oranges and reds, the first hint of winter's chill, fall is a season of change.  
Just as the animals around us are preparing for hibernation, your community association must prepare for winter's long freeze. That includes performing maintenance tasks on pipes, sewers, irrigation, and other amenities that are susceptible to damage in the winter.  
But it doesn't stop there! There are many things you must do to prepare your association for fall and the coming winter.  
As you retrieve your scarves and coats from the storage closet, take care of the six tips below for a harmonious community this fall.  
Prepare Your Community Association This Fall 
The end of the year is creeping up on us. This fall, take care of these six important tasks. 
Get Your Board's End of Year Finances Under Wrap 
This is your most important fall task. Might as well get it done first! 
During October or November, it's time to finalize this year's finances and start budgeting for next year.  
During this time, be sure to set a meeting schedule for next year as well, so an itinerary can be distributed to homeowners. 
Having your financials in order sooner rather than later will ensure that when the snow starts to fall, you can spend time curled up next to a fire with loved ones, instead of hunched over a desk trying to work out the finer details of a community budget.  
It's Time to Clean Out Those Gutters! 
Do it fast before the water starts to freeze! 
One of the best ways to maintain the integrity of the homes in your community is by cleaning out all gutters before winter's chill freezes and causes the water to expand.  
Falling leaves clog up gutters, and clogged gutters can lead to roof damage and more. 
Wait until most of the leaves have fallen then plan to have local homes' gutters cleaned of debris.  
Get Community Gardens Winter Ready 
After you have harvested all your fruits and vegetables, your community gardens need to be cleaned and prepared for winter. Otherwise, you'll struggle to grow lush crops next spring. 
Get some volunteers from the community and remove dead plants, wash and sweep walkways, find dry places to store tools, and more.  
You can also take this time to assign residents plots for next year. Give volunteers who spent time working to clean priority registration as an incentive.  
Make Last Minute Landscape Changes 
Fall is your last chance to make any landscape changes until next spring when the ground thaws.  
This is the perfect time to plant hardy plants that will thrive in winter and fall. Also, now is the time to winterize grass so it comes back next spring as bright and lush as ever. Fertilization and aeration may be necessary as well depending on your area. 
Dress the Community in its Autumn Wear! 
We saved the best for last!  
A change in season means a change in aesthetics! The time has come to dress your community in its fall décor. 
Autumn flowers, orange and yellow flags and banners, pumpkins, gourds, and so much more! Fall is the perfect time to cover your locality in the garb of the season of change. Fall into Autumn and make it official with décor to match. 
Prepare Your Community the Right Way this Fall with a Community Manager 
Fall is a season of change, and your community must embrace change this year.  
Financial and maintenance tasks are the priority, but once those are taken care of, the fun of fall can come out in full force.  
Does your community need a little extra help preparing for fall this year?  
Then it may be time to reach out to Management Plus. At Management Plus, we understand that no two communities have the same needs. That's why as a community association management company, we don't treat your community association like anybody else's. 
With Management Plus, you get custom community solutions, right when you need them.  
Curious about how Management Plus can improve your association management? Reach out today!