How to Make a Breakfast Nook
How to Make a Breakfast Nook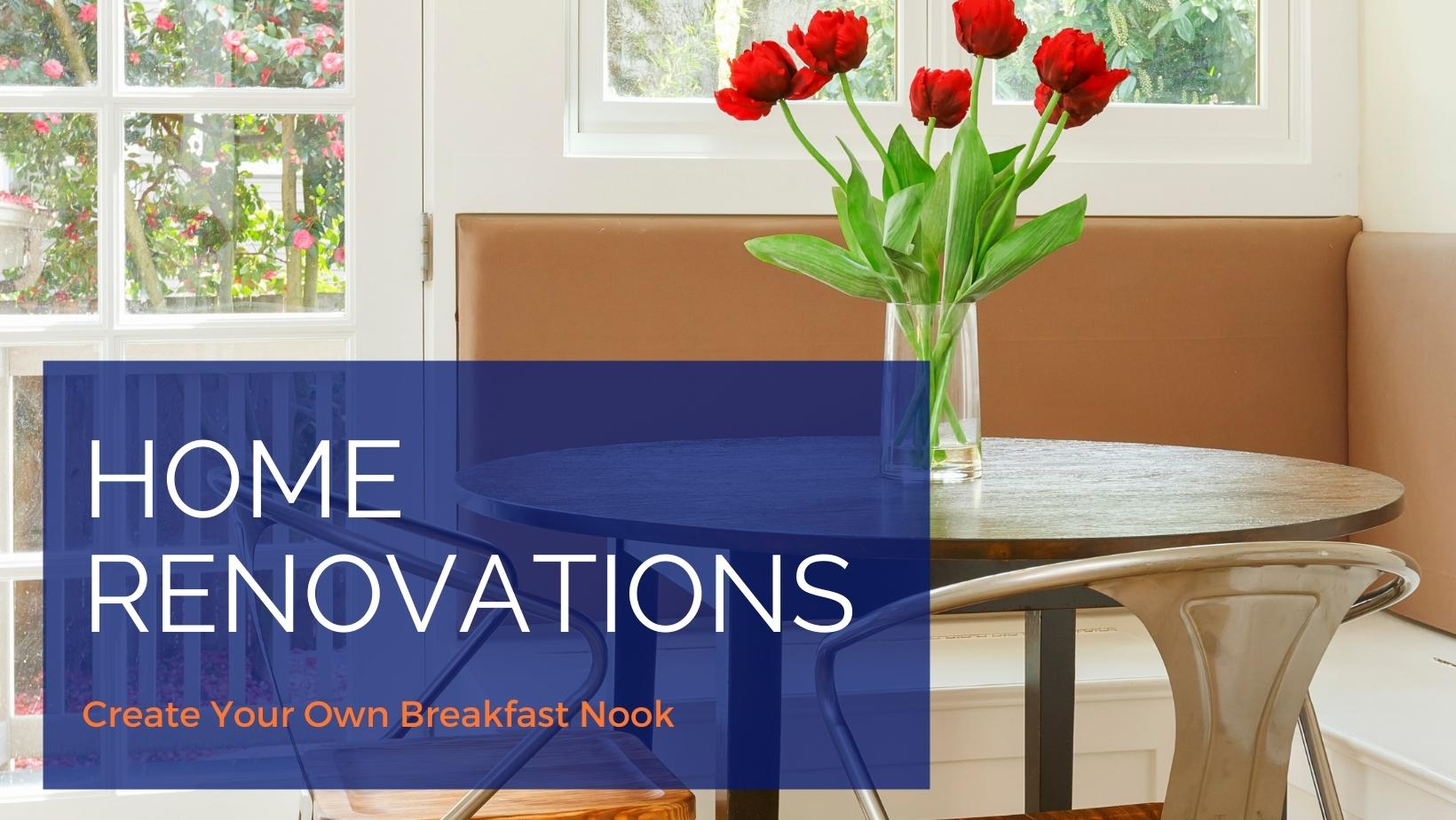 Your home is your refuge. You should be able to relax and unwind after a long day at work or start your morning off right with a cozy space to ease you into the day. Any additional comfort you can add to your home is a well-deserved bonus. 


One creature comfort that has risen in popularity over the last few years is breakfast nooks.  


A nook is a cozy area inside your home where you can enjoy smaller meals, take time for yourself, or curl up with a good book.  


Your breakfast nook should be smaller and tighter than a dining room table and should be a space for one or two people to enjoy quiet solitude.  


Breakfast nooks are easily made in spaces that have built-in seating, like next to a bay window. 


In this article, we will give you some tips for building your own breakfast nook.  


Find a Spot for Your Breakfast Nook
The first thing you must do before you can build your nook is to find the proper spot.  


The best areas for a breakfast nook are kitchen or living room corners, or areas by a window with a view. What's better than watching the world go by with a view of your bustling neighborhood below?  


Your nook space should be big enough for a small table and at least one chair.  


Think outside the box: Picking a space with a view is a great way to avoid electronics during your morning routine. Put down your phone and watch as life goes on around you as you enjoy your morning brew. 


The table you choose for your breakfast nook should be small and stylish. Your table should be warm and perhaps even slightly worn.  


You want a table that you will want to rest your forearms against after you rise from bed.  


Don't pick a table too tall or too short. And don't be afraid to leave your favorite book or magazine there waiting for you.  


Think outside the box: Repurposed restaurant tables can be perfect for creating a breakfast nook. Pretend you are spending your morning at a French bistro seeing the sights of city life. High-tops are perfect for bay window seating.  


Once you have your table chosen for your breakfast nook, you will be able to choose corresponding seating. 
 
You want something that will fit comfortably under your table and allow you to rest as you read or sip your coffee.  


Always opt for utility and comfort. You don't want a stool or something too stiff, but you also don't want a chair that will swallow you up. This is not the place for beanbag chairs!  


Invest in one chair over a set. You can always pull up more chairs if you have guests.  


Think outside the box: If you have built-in seating, like a bay window, add a cushion to give an extra layer of comfort. 


Style Your Nook with Pillows and Accents
The last thing you need to do to complete your nook is to add an infusion of style and comfort.  


Plush pillows and stylish accents are a great way to achieve this.  


Get (or make) two to three comfortable pillows that match your design palette. Pillows are great for resting your elbow or adding an extra cushion to your seat. 


Likewise, look for accents such as plants, window treatments, and other fashion statements to make your breakfast nook yours.  


Think outside the box: Many people choose candles to top their tables. Fresh flowers can be much more effective at soothing your nerves and, if properly tended, can last much longer than a candle. You can even have both if you feel like mixing scents for maximum olfactory stimulation.  


Your Breakfast Nook is for You
Don't feel like following the advice listed above? That's more than fine!  


Your breakfast nook is about you. Some people choose to create a larger space that is perfect for the whole family, others choose a nook that can only seat one.  


Whatever you do with your breakfast nook, make it uniquely yours.  


Making a peaceful breakfast nook starts with a well-kept neighborhood. Ensure your peace and safety in a community managed by Management Plus Realty Service.