How to Build a Better Relationship with Your Community Manager
How to Build a Better Relationship with Your Community Manager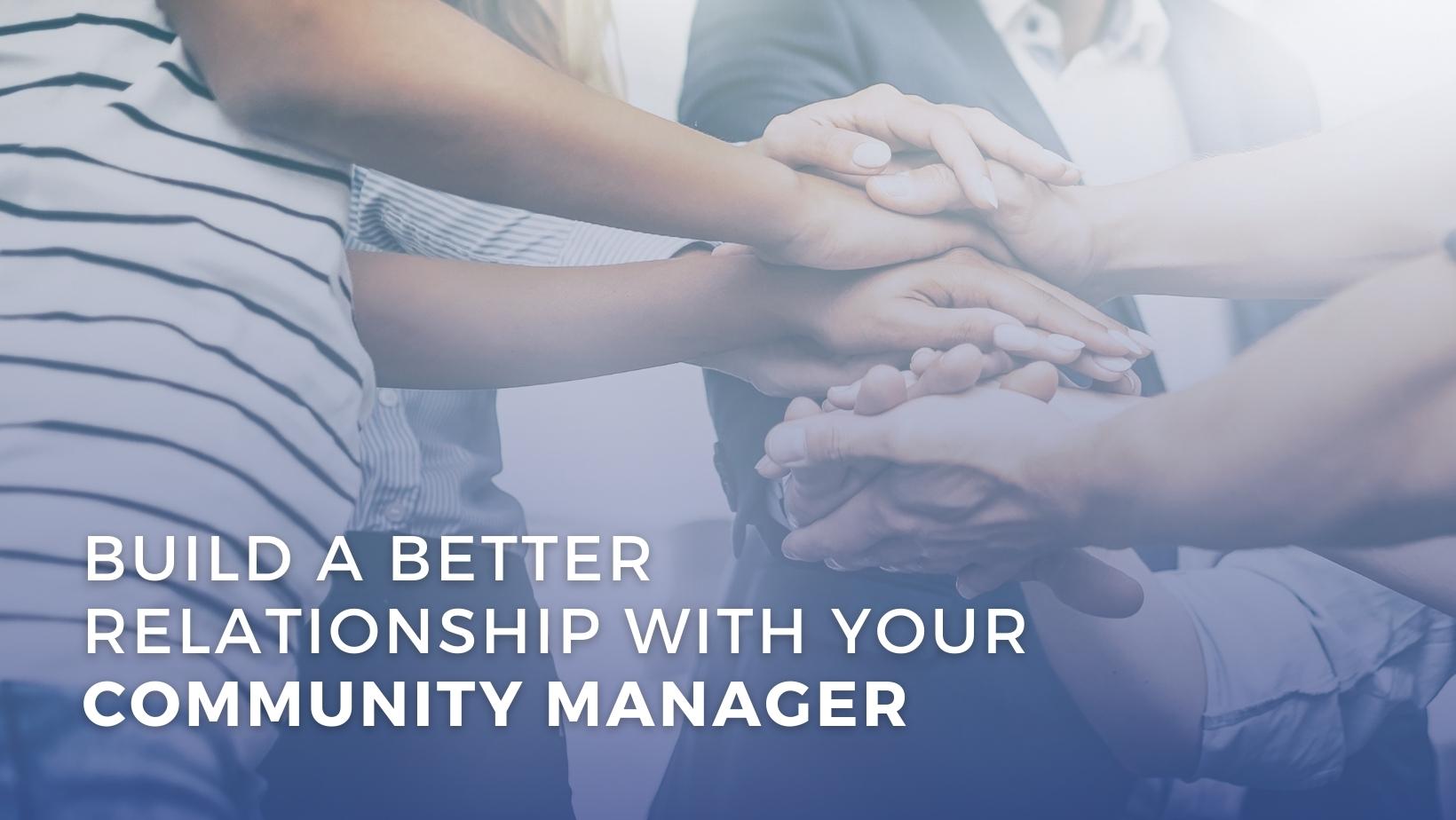 One of the best ways to reduce HOA Board members' workload while also improving the community as a whole is to hire a certified community manager.
A community manager is an expert in solving association issues, and when properly used they can help your HOA run at maximum efficiency. The community manager tackles the tough issues to save board members' time and allow them to focus their energy elsewhere.
Community managers work behind the scenes to ensure that all major operations and objectives are on track and have the proper resources.
Because community managers are so important in helping a community run smoothly, it is always best for community members to develop a positive working relationship with their community manager.
But how do you foster a great relationship with your community manager? It's simpler than you might think.
In this post, we will go over a few small steps you can take to make big improvements in your relationship with your community manager.
What Exactly Does a Community Manager Do?
Before we can understand how to develop a better relationship with a community manager, we must first understand what a community manager's day-to-day routine looks like.
Your community manager's specific operations will be outlined in your HOA's bylaws, or in the contract your association signed with your management company.
In general, a community manager is in charge of all operations overall and the compliance of all initiatives with local and state laws, as well as board rules.
The manager works closely with board members to advise them on key decisions when executing their agenda. Community managers do not make the decisions for the community, they serve in a consultant role, where they advise and execute the goals of the board's officers.
A Better Relationship with Your Community Manager
Working closely with a community manager can be a positive experience for all involved.
After all, community managers are experts when it comes to building better communities.
What are some actions you can take to make a better relationship with your community manager?
Set clear responsibilities.
You must clearly outline what your community manager will and will not be responsible for in a contract. Set boundaries and agree to stick to them.
Keep an open mind.
Your community manager is there to help your community. Make sure you are open to ideas from a variety of sources.
Communicate.
If there is an issue, make sure you communicate the problem with your community manager. Ask questions and maintain an open dialog.
Make resources available.
Community managers can only do their jobs properly when they have the right resources. Make every tool available so community managers can do their jobs.
Stay informed.
Board Members who are in the loop on what the concerns and trends are in their community allow community managers to step in with solid guidance when the time is right. Stay up to date on all current trends and issues so that your community manager can collaborate with you when the time is right.
It Takes a Village
Proper community management cannot be done alone. It takes an entire team of dedicated professionals to improve a community.
The community manager serves as the expert advisor in an otherwise unclear environment.
One of the best ways to ensure that the community manager can do their job effectively is by making sure they have a positive working experience.
Follow the tips above and you will notice a closer working relationship between your board and its community manager in short order.
Ready to upgrade to the best?
Management Plus boasts the finest collection of community managers in Southwest Ohio. Only through Management Plus can you be sure you are getting an expert in community management to guide your neighborhood in the right direction.