HOA Terms to Learn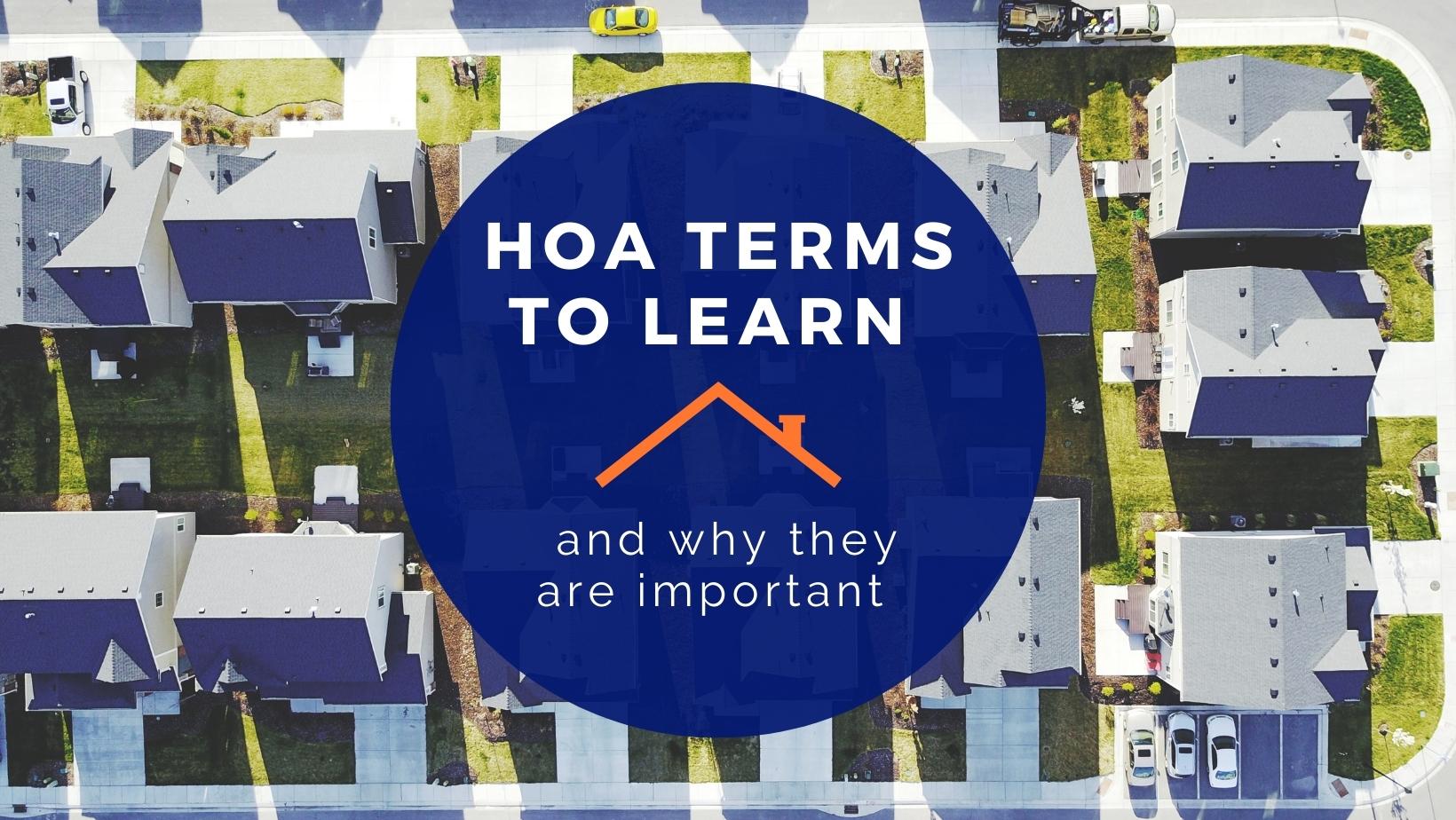 So, you've just moved into your new home and you're ready to get acquainted with the HOA. 
Or maybe you've lived in your home for a while and are just now wondering what your HOA does.  
Regardless of your situation, if you live in a home managed by an HOA there are several key terms that you need to be familiar with.  
This post will go over a handful of key terms you should know so that you can use them to help you better understand the role of your HOA.  
Board of Directors 
Every HOA needs a board of directors so that the association has the power to function.  
The board of directors is sometimes referred to by different names, depending on the specifications of your HOA.  
Regardless of the name, every HOA needs a panel of elected representatives to carry out the will of the community.  
Board membership is an elected volunteer position that helps the HOA determine rules, and regulations, and enforces community guidelines.  
Common board positions include President, Vice President, Treasurer, Secretary, and more.  
You can think of the board of directors as the brain of the HOA.  
HOA Fines and Fees 
HOAs exist to create rules and guidelines for healthy communities. Members of the community must follow these guidelines to ensure harmony for all.  
HOAs are advanced organizations and therefore they need money to operate.  
The first way HOAs make money is through regular HOA fees.  
You can think of your HOA fee as a membership cost. You pay your HOA a regular fee (it can be monthly or yearly) and in turn, your HOA creates and enforces the rules that make your community a cooperative place to live. HOA fees are required as they go to the betterment of the community at large.  
The second way HOAs make money is through HOA fines.  
Unlike HOA fees, HOA fines are not a good thing.  
When excessive HOA fines are issued, it means that community members are regularly not following HOA rules.  
The money collected through HOA fines is used to continue to enforce rules and to amend outdated rules to create a more representative community.  
HOA Committee 
An HOA committee is a handful of community members that are focused on one specific task or goal.  
They focus on aspects of the community that require special oversight, planning, and execution.  
Committees allow unelected community members to get involved and reduce the workload of the board.  
Community Association Management Company 
Community Association Management companies are outside companies that commit their time and resources to help the HOA as a whole run more smoothly.  
They are contracted by the board and help the HOA carry out tasks that the board cannot.  
Association Management companies help support the board by completing advanced tasks, such as financial work, utility maintenance, and other efforts depending on the community's needs.  
A More Informed Community 
Whether you have lived with an HOA for years, or you are new to HOAs entirely, you must be familiar with the common terms surrounding HOAs.  
The more you as a community member know about your HOA, the better it will function.  
Don't be afraid to get involved. Your HOA needs your support to foster a stronger community.  
If your HOA has been running out of steam recently, then it may be time to reach out for help from a Community Association Management company.  
Management Plus is the best Community Management Company in South-West Ohio. We put our community members first to ensure that every community reaches its full potential.