Best Practices for a Safe and Fun Halloween for Your Community Association
Best Practices for a Safe and Fun Halloween for Your Community Association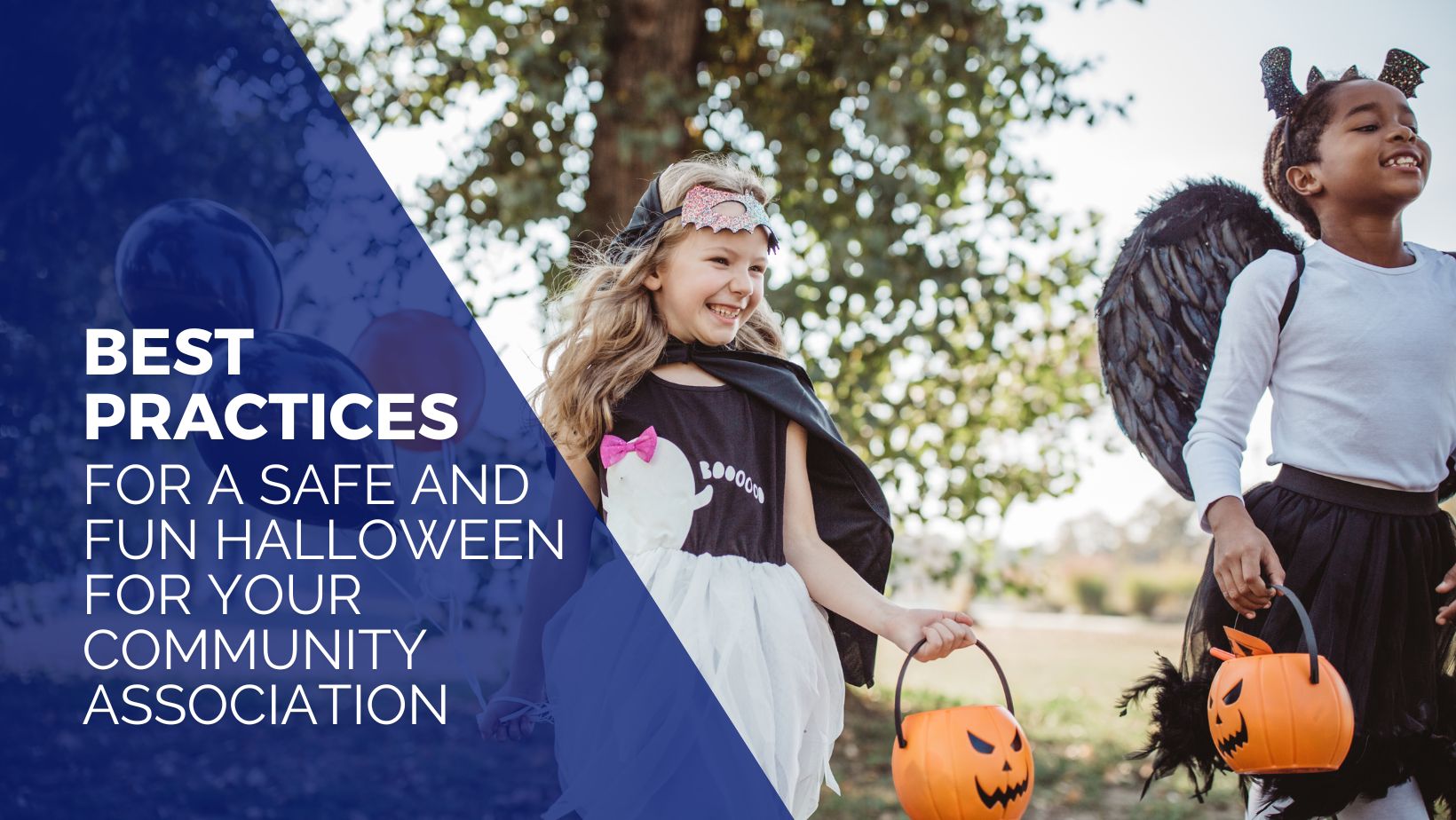 Halloween is a season of fun and frights.  
More importantly, it is a time for kids (and adults) to dress up as their favorite superheroes, spooky monsters, historical figures, and much more! This is the season where your creativity comes out to shine, and kids take home a hoard of candy to boot. 
However, a safe, fun Halloween doesn't happen by accident.  
While swarms of trick-or-treaters mob your neighborhood, your community needs a plan to ensure that fun is had by all, and most importantly, everyone stays safe on the spookiest night of the year. 
Follow along for Management Plus's best tips to create a Halloween that will be fun and safe for all. 
Five Tips for the Best Halloween in Your Community Association 
Close your eyes and picture this:  
You're a neighborhood kid dressed as Batman and carrying a plastic jack-o-lantern candy bucket. The streets are swarming with kids just like you. You, of course, only have one goal in mind. Get as much free candy as possible in the few hours you have to trick-or-treat.  
Now, imagine that you are that kid's parent. What are your Halloween goals? Make sure your kids have a safe, fun Halloween without the risk of threats from troublemakers, loose animals, or malicious-minded adults.  
Let's take a look at how board members can address those threats, and create a fun, spooky Halloween that kids will be talking about all year round.  
Remind Community Members to Secure Pets 
Halloween is a hectic time of year. People dressed up as monsters roaming the streets can be frightening for pets. Add to that the threat that black cats face due to their folklore reputation, and it is clear that pets are best left indoors on Halloween.  
Only pets that are well trained and secured on a leash attached to their owner should be let out. Most importantly pets must always be supervised. 
Throw a Community Halloween Party 
One of the biggest concerns parents have on Halloween is the lack of structure.  
This year, instead of a lawless flurry of trick-or-treating, throw a community-wide Halloween party! 
A Halloween party will give you the ability to structure the night's activities, control candy, and provide entertainment for the community.   
Find volunteers for the following events: 
Food – either hire a food truck (or two) or organize a community potluck.  


Costume contest – Everybody enter! Set aside a small prize for the winner. Award prizes by age group. And conscript a panel of judges to award vote on the winner. 


Games – Halloween-themed games will help give the children (and parents) something to do in a structured environment. 


Decorations – Get a team together to dress the neighborhood in Halloween garb! 


Use Flashlights and Reflective Tape 
Not everyone will take part in the Halloween party. For the trick-or-treaters in your community, encourage parents to arm their children with flashlights and apply reflective tape to their costumes. 
That way drivers will be able to easily spot roaming trick-or-treaters.  
Now that's an easy safety boost! 
Candy Inspectors 
The chances of someone tampering with children's candy are very, very low. However, it's still best to check children's candy before they dig in.  
Look at wrappers for signs that it has been opened. That includes pricks in the wrapper, signs of heat damage, or wrappers that do not contain an interior air bubble (they feel like they have been deflated).  
These are all signs that candy may have been tampered with.  
Remember, when in doubt, throw it out! 
Don't Forget to Have Fun! 
As parents in the community, we often forget that Halloween is supposed to be a time of fun! 
Make memories with your family, form friendships with your association members, and enjoy the festivities.  
If you have taken the proper precautions and ensured that your children do not go trick-or-treating without adult supervision, then you can have fun on Halloween too! 
Better Association Management with Management Plus 
Planning for a safe and fun Halloween is a lot of hard work.  
In addition to the regular duties of community management, it can feel like getting it all done is impossible.  
If your community association could use a little help, reach out to Management Plus.  
Not only do we help provide a safe and fun Halloween for you and your kids, but we also help your community manage its regular tasks all year round.  
Our dedicated team of professionals will guide your community association to success! Reach out to Management Plus today!