Setting New Year Goals for Your Community Association
Setting New Year Goals for Your Community Association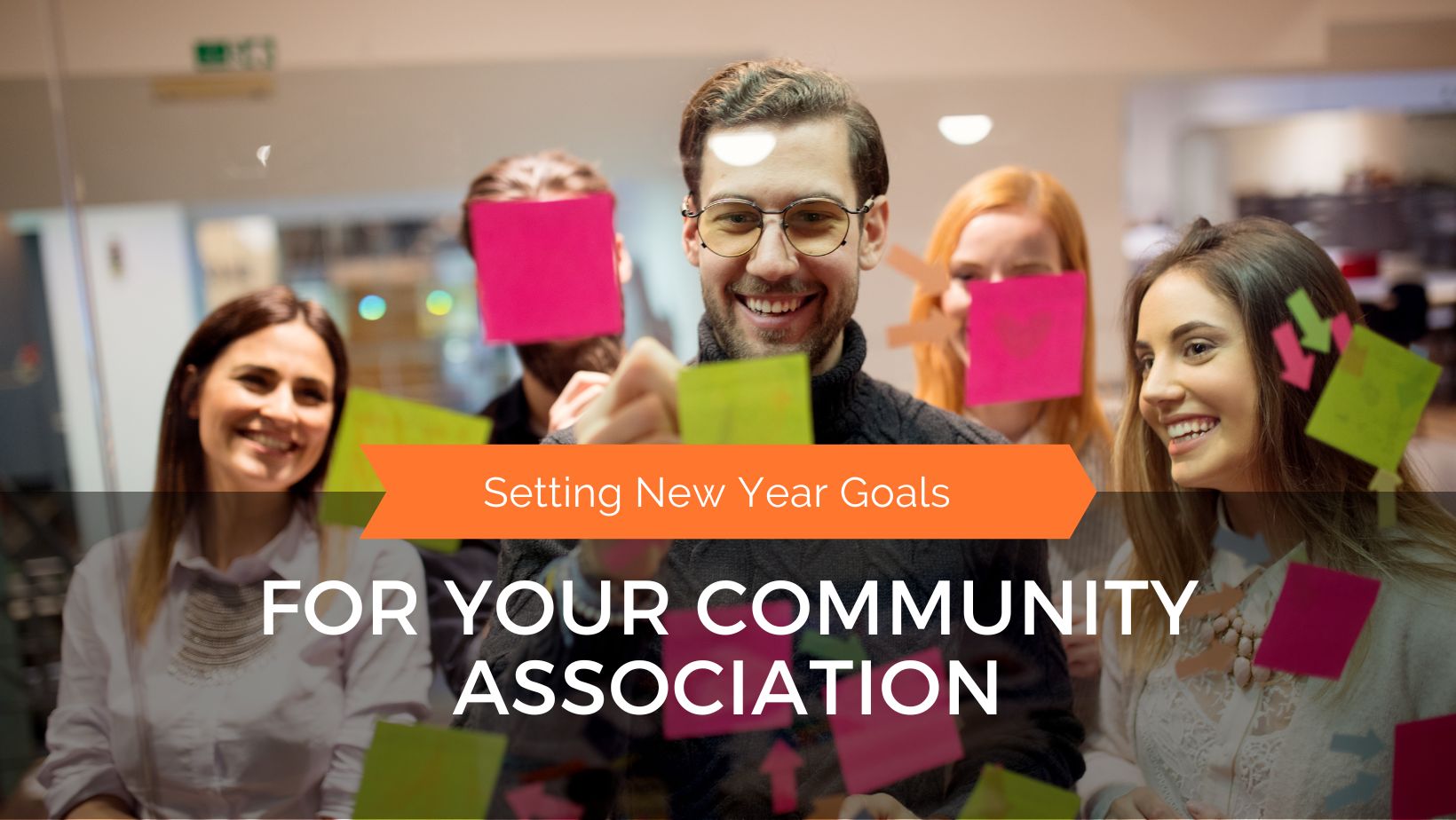 Your community association accomplished many great things this past year.  
New community amenities, better infrastructure, improved social networks or events, and more efficient money management were just some of the things you may have accomplished this year.  
Community goals take commitment, communication, discipline, and effort, and you deserve to feel proud of yourself and your community for reaching your goals and making your neighborhood a better place to live.  
Looking forward to next year, there are still many things your community may want to accomplish. Right now, time is on your side, and it is up to your association's board to determine what your community will accomplish next.  
In this post, Management Plus will walk you through how your HOA can determine which goals are best to target, and how you can set SMART goals to ensure you achieve success. 
How to Determine Your HOA Goals for Next Year 
To determine the best goals for your community association in the coming year, you must rely on organization and an honest assessment of several different variables and go through a yearly checklist. 
Do each of the following at the beginning of the year to help you set your goals.  
Review governing documents 


Conduct a financial audit 


File taxes 


Review board meeting minutes 


Review maintenance and construction checklist 


Review and restructure committees 


Schedule an annual meeting 


Set an annual meeting 


Review insurance 


Schedule holidays and annual events 


Reevaluate your newsletter 
Once you have reviewed the above categories, you will have a better understanding of what your community association can accomplish and your ideal timeline for the upcoming year.  
In the next section, we will go over how you can set SMART goals to determine success. 
How Your HOA can Set SMART Goals 
Now that you know what your HOA will be capable of in the coming year, you can set specific goals that you want to accomplish as a community. 
Before you dive in, let's look at a goal-setting system called SMART. This system will help ensure that you can meet the goals you have set and find sustainable success. 
Let's break down the SMART goal system so you can use it to set goals for your HOA. 
Here is each component of the SMART formula. 
Specific 
The "S" in SMART stands for "specific," meaning your goals must be clearly defined so you know exactly what you are going to accomplish. 
Measurable 
The "M" in SMART stands for "measurable," meaning you must be able to track progress and have clear benchmarks to determine success or failure. 
Achievable 
The "A" in SMART stands for "achievable," meaning your goal needs to be something realistic that you will be able to accomplish in a reasonable period with the funds you have.  
Relevant 
The "R" in SMART stands for "relevant," meaning you must set goals that help your community progress and address real problems your community members face.  
Time-Based 
The "T" in SMART stands for "time-based," meaning you must decide whether your goals are short-term or long-term and set a clear timeline for when they will be accomplished. 
Your Community Association Goes Further with Better Goals 
The SMART goal system will help ensure that you can create goals that you can count on accomplishing. Try and select a few "must-accomplish goals" as well as a few "would-be-nice goals" so you can focus on what is most important first and luxuries second.  
One of the most important aspects of achieving your goals is having a management team that you can rely on to back you up.  
Management Plus offers full-service management for your community association including physical, financial, and administrative aspects of operating your community association. Managers at Management Plus provide your Ohio, Kentucky, or Indiana HOA board with professional knowledge and guidance for a successful community. 
Ready for prestige community association management and consultative services? Get in touch with Management Plus today! 
Satisfied with the Management Plus difference? Leave us a review on Google here!